EvannsCollectionLaw.com – SEO Case Study
Top Organic positions in Google
| Keywords | Organic Position in Google |
| --- | --- |
| Collection Attorney | # 1 & #2 and #2 in Maps |
| Collection Lawyer | #4 & #6 |
| Collection Attorney Los Angeles | #1 & #2 |
| Judgment Collection Law Firm | #2 & #5 |
| Judgment Collection Attorney | #2 |
| Judgment Collection Los Angeles | #2 & #3 |
| Judgment Collection Lawyer | #3 |
Verify our SEO case study – SET Google Search Engine location to Los Angeles
1. Go to Google.com
2. Type in "Collection attorney los angeles"
3. Click on "Search tools"
4. In the Location dropdown, enter "Los Angeles, CA"
5. Click on the Search Icon.
Marvel at the results. (optional)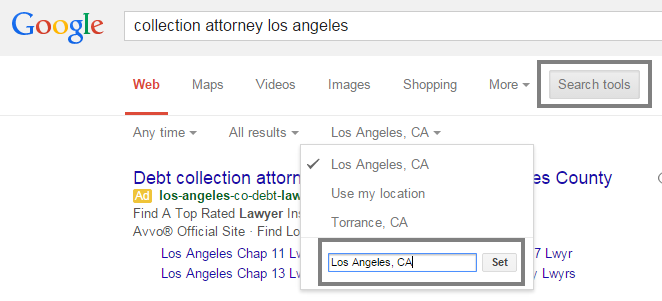 Ready to get your Collection Law Practice in

top Positions in your area?
It won't happen overnight, so lets get started!
High Lead Conversions for Organic Traffic
Date Range: August thru October 2014
Source: Organic Traffic Only – Google/Yahoo/Bing
First-time Phone Call Conversion rate
Form Submission Conversion rate
Total Leads Conversion Rate for Organic Traffic
Further explanation of these findings:
Clearly, most of your customers prefer to call. If you don't have Phone Call Tracking on your current website, you do not have accurate data on your website's worth.

Compared to Pay Per Click campaigns, we have less control over the Organic traffic that Search Engines send. For Organic Traffic, this high conversion rate is UNHEARD of.

New Lead Conversion rate = First-time Phone Calls + Form submissions. Example: if 100 NEW people visited your website from Organic results, 8 of those NEW people took action. They either called or filled out a form on the website.
* Above results are for Los Angeles metro area.
Impressed yet? Lets get started then!